CFO Services
A three person team led by our CFO Jim Urbanowski, provides for all financial and managerial accounting, budgeting, payroll, benefits admin, tax preparation, etc., for the entity and the products. We can also act as a Controller, utilizing a dual-signatory system that helps prevents issues with inflows and outflows of client assets, which is a critical operational due diligence check.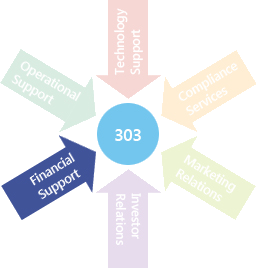 Some of our services include:
Providing daily use of 303 Capital resources for operational issues and inquiries.
Reviewing monthly financial packages to ensure accurate NAV, performance, and investor capital statements.
Managing annual audits.
Drafting and/or reviewing financial statements.
Distributing required reporting to counter-party credit departments.
Reviewing and filing management company tax returns.
Reviewing and filing pool tax returns, with individual K-1s.
Monitoring cash management and controls.
Calculating fees and managing billings.
Reconciling cash positions and P&L.
Establishing and maintaining trading, custody, clearing, and financing relationships.
Managing third party valuation firms for "Hard-to-Value" securities.
Assisting with lead advisor responses to due diligence requests related to financial operations.
Responding to investor inquiries and requests and attending meetings with potential investors.