Compliance Services
We can provide full compliance services in both the SEC and CFTC domains of your fund and management company, including Form ADV (I & II) completion and filing, short-sale monitoring, quarterly NFA filings, code of ethics, and required annual policy reviews (AML, trade restrictions, etc.)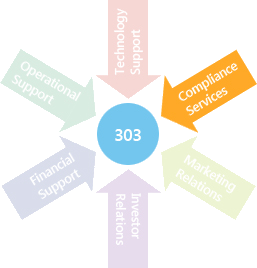 Some of our services include:
Employee personal trade clearing.
Coordination of annual employee certifications and reports related to Code of Ethics.
Review compliance of marketing material, performance reports, and investor letters.
Distribution and monitoring of regulatory investor communications.
Annual and periodic updates to adviser registration materials.
Managing non-public information and restricted lists.
Managing ongoing securities filings related to portfolio holdings.
Managing ongoing adviser and fund regulatory filings.
Maintaining crucial information logs relating to policy breaches, investor complaints, and regulatory inquires.
Maintaining disaster recovery and business continuity planning and testing.
Managing employee email surveillance.
Maintaining requested record keeping.
Quarterly compliance program updates for regulatory and firm structural changes.
Performing required annual written compliance reviews.
Providing ongoing employee compliance training.
Assisting with lead advisor's responses to regulatory inquiries and examinations.
Assisting with investor due diligence inquiries.