Technology Management
Our mission in Three Zero Three Technology is to create and maximize value by developing and implementing the right technology to solve business problems and help traders exploit opportunities as quickly as possible while managing costs and operational risk. Traders and managers in our Willis Tower offices monitor their strategies across major exchanges around the globe. We follow IT advances in our industry closely and seek out technology opportunities that make us more competitive.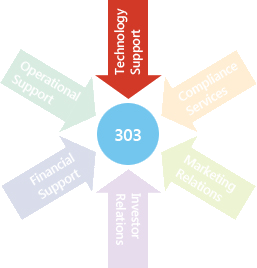 Software
We utilize both third party and proprietary trading platforms. We cater to many types of traders, from the single-click trader to algorithmic trading groups running complex strategies across multiple markets.
Global Network
We operate a data network with access to global futures exchanges and to the cash markets. Trading servers are generally hosted as close as possible to the exchanges' match engines to optimize trading strategy performance. We partner with industry leading managed service providers that focus exclusively on the financial industry.