Services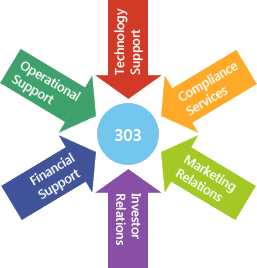 Three Zero Three Capital Partners is committed to providing a high quality, customized, cost-efficient middle office service to our partners. We offer a deep management team with experience in trading, portfolio management, financial markets, and hedge fund operations along with a suite of back-and middle-office services that allow traders and fund managers to concentrate on portfolio management and asset gathering. We provide a full-service model, in which 303 handles the entire spectrum of non-investment services, or you may elect specific areas where additional resources are required.
Compliance Service – Providing a full suite of compliance services, with experience working with SEC and NFA registered entities.
Marketing & Investor Relations – Our management team actively networks and explores strategic global relationships and vendor alliances in support of your business.
Financial Support – 303 offers a deep and talented accounting team focused on performing all managerial and financial accounting and related tax reporting requirements. This will allow you to focus on your important trade management and trade research processes and grow your business.
Operational Support – 303 utilizes both third party and proprietary trading platforms. We cater to many types of traders, from the single-click trader to algorithmic trading groups running complex strategies across multiple markets.
Technology Support – 303 operates a data network with access to global futures exchanges and cash markets. Trading servers are generally hosted as close as possible to the exchange match engine in order to optimize trading strategy performance.